Display HD quality live video from a capture device
Overview
Whether its a cable television channel, a video conference session or an over-the-air TV channel, live video can play an important role in your digital signage content strategy. For digital signage, live video can be aquired from a network stream or from a cable connected to a video capture device. This article focuses on using a video capture device to acquire a HD quality TV image from a live TV transmission.
Equipment required
1. Live video source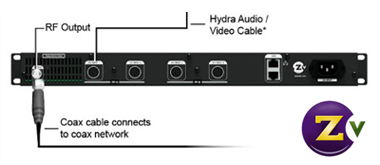 In this example we use cable TV set top box as our live video source where the set top box receives its cable signal from a cable provider*. The set top box provides a number of TV channels for selection and the current channel is displayed on a TV using a HDMI cable.
2. Signal distribution
If you have multiple Digital Signage players that will be displaying the TV image you're going to need a signal distribution network and for this we recommend the ZeeVee 2620 modulator/encoder. By connecting the modulator to the set top box using a proprietary Hydra cable (Component to proprietary connector), the modulator will transmit the current channel in HQ quality over a coaxial cable as a Clear QAM signal. This will enable any Clear QAM tuner device to tune into the signal and receive an HD TV image.
Note: To have a selection of channels on your coaxial cable network you will need to have a set top box per channel, each connected to a modulator.
3. Digital Signage Player with a live video capture device
In order to receive and decode the Clear QAM signal produced by the modulator, a Clear QAM capable tuning device must be connected to the digital signage player.
In this example we have used a Hauppauge WinTV-HVR-950Q HDTV TV stick connected to the coaxial cable network. This device is capable of receiving HD quality TV from clear QAM and ATSC TV signals.

Adding the live video content to your display
To add the live video to your digital signage display, simply create a live TV asset. Enter the duration of the asset, select Digital tuner and enter the channel number that you wish to tune to (for over-the-air channels via ATSC, enter the major and minor channel numbers as well). Once you've created the asset, drag it into your playlist. Add any other other content you wish to display in addition to live TV and then upload the playlist to the players that have TV tuners.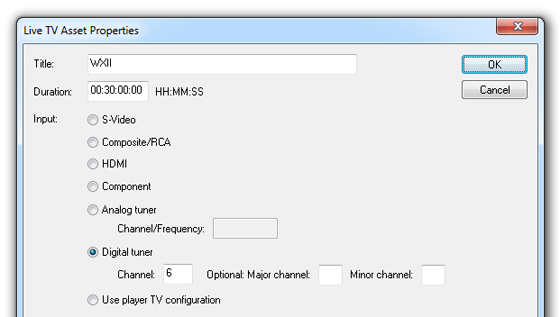 Connecting other video sources
Instead of live TV from a cable box you can connect a video conferencing receiver and display a broadcast message from the CEO, you connect a webcam that overlooks your campus or you can link up your CCTV feed to for after hours viewing by security personnel.
* Be sure to check with your cable TV provider's licensing terms to determine if a channel may be displayed on your Digital Signage displays, particularly when you have public facing displays.